08 Dec

Welcome!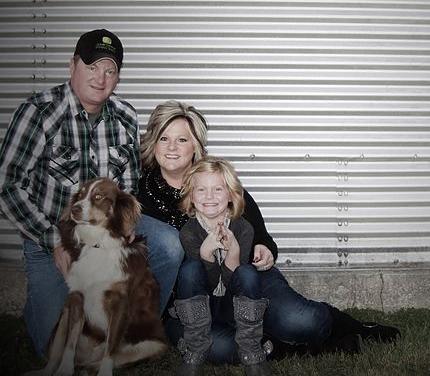 Hello!! I am happy to announce that Hitched Bridal and Formal Wear will be officially open for business Saturday, January 9, 2016! This has already been a journey in the making and we are not even open yet! LOL! I just wanted to introduce myself and give you all a little history on Hitched. So, please meet the Louderback's…Bill (my husband), Nicole (me), Taylor (our daughter) and Memphis (our Australian Shepherd)!
Bill and I have been married for 10 years this past October and I can remember shopping for my wedding dress just like it was yesterday. I had the most horrible experience because the sample gowns that all of the dress shops had did not fit well and I pretty much had to "imagine" what the dresses would look like because I am not a size 10/12! So I had to settle on a big box store dress when I really had a trendier idea in mind instead. So I have always had a vision of wanting to be able to give future bride-to-be's an absolute blissful and wonderful experience picking out the dress of their dreams for the biggest day of their lives! I kind of put my dream on the back burner until the end of 2014, when my youngest sister started shopping for her dress. She too ended up shopping at the same big box store as I did 10 years ago and while she did find a beautiful dress, the experience to go along with it and service after the dress was ordered was not great. It was then I decided I definitely wanted to make my dream a reality so brides of every size will have a choice when it comes to wedding dress shopping and not have to settle because they are not able to try something on in their size or the dress they want is not made in that size.
Bill and I decided to make my dream a reality and started shopping for the future home of Hitched in January of this year. We looked at many places and decided Hitched would be born at 102 E Franklin ST on the Historic Square in Bloomfield, IA. This building just felt right to both of us and had most of the features we were looking for. We planned on doing some slight renovations to the building such as tearing down a few walls and making a few new ones, but as we started the renovation process, it turned out to be a much bigger project than we had expected! We ended up doing a full renovation on the building, which was actually awesome because I was able pick out everything and make it how I had envisioned in the very beginning! The rustic glam decor theme has turned out phenomenally well and I am very happy with the whole new look on the inside. We still have a few minor touch ups inside and my outside lights still need to go up over the sign and hopefully should be done soon. My family and friends have played a HUGE role in helping us make Hitched possible and I cannot possibly thank them all enough for the help that they have given us!! Also, I have to thank Tassel Ridge Winery, Boone's Farm and Coor's Light as I am not sure this would have all been possible with some of the setbacks we have had during this whole journey without them!
So this past Saturday, the renovation was finally complete enough to be able to begin moving all of the furniture to the store. I didn't realize how much stuff I had already picked out for the store until we started making trips back and forth from home to the store. Bill is ecstatic that he is getting his shop back to himself! There was so much stuff for the store stacked in there we could barely park our 2 vehicles….OOPS! So bridal gowns, prom dresses, bridesmaid dresses, flower girl dresses, jewelry, sashes and other accessories have been arriving daily and let me just say they are absolutely AMAZING and I cannot wait until I am able to open the doors on January 9th and invite you all in! I have a ton of work to do before then as everything needs to be steamed, marked, entered in the computer system, sorted by size, etc.
We will be doing giveaways and promotions as it gets closer to opening day, so stay tuned on Facebook for all of that buzz. I am so excited to finally open and share my passion for fashion with trendy, fresh styles with sizes for everyone! I look forward to seeing you in January!
Nicole Louderback